A Most Memorable Birthday Party for Any Girl
By Kerry Smith, Salt Lake City Editor, KidsOutandAbout.com
Birthday parties come and go every year for us adults, but when you're 11 they're really special. Being the mother of two sons, I almost-never get to host pink, frilly, girly get
-togethers, so I quickly jumped at the chance to pamper my niece, Maycee, when I discovered Diva Girl Spa Parties. I felt sure THIS party would gain me official "best aunt" status forever. And I'm pretty sure I was right!
Blink and Your Party Is Planned
Mother-daughter owners of Diva Girl, Jen and Ryan, were so excited and helpful to plan our event right from the start. We decided to go all out with their VIP Glitz and Glam Diva Girl Package. Before I could say, "Birthday cake!" they had a personalized, digital party invitation all ready to go. I simply emailed it to my sister for printing, and my niece was happy to distribute. For the party, there can be a total of 10 guests, including the birthday girl. Any more, and it's too hard to stay in the two-hour party timeframe. Our birthday girl is very social and could have invited twice as many guests, but at the party we chose to invite seven, and that was just right for us. We could all visit and not have it be too much.
When the party day arrived, my sister and I were pretty much off the hook for any set-ups. She supplied pizza and a cake; I supplied the clean house, which is why I have parties--to make myself do the cleaning. :)
Thirty minutes before the party, Jen, Ryan, and another party hostess arrived, bringing all the supplies. They thought of absolutely everything, including a cute area rug to catch any nail polish drips. Tables, chairs, decorations you name it--they had it. All they really needed was an area for everyone to sit comfortably and a sink nearby. They even had cute decorations for my walls, which were hung with tape products that did not damage the paint.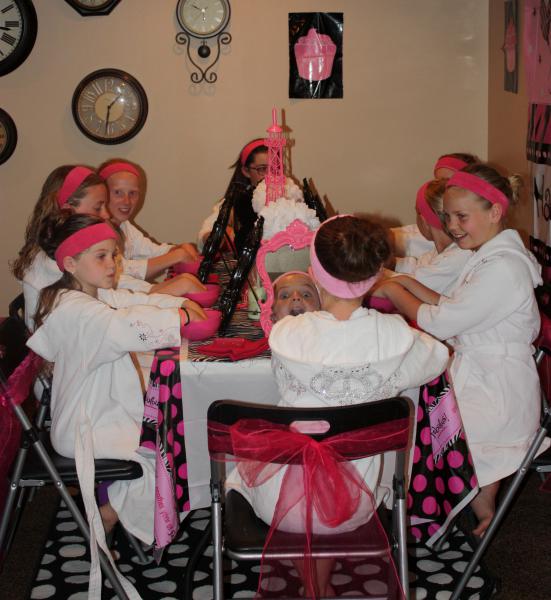 Facials, Manis, and Pedis--Plus More!
Once the girls arrived, the fun began! Our party was in a basement family room. As they decended the stairs and saw the party for the first time, there was a collective "Oooh!" and lots of excited giggles. Right away, Jen and her Diva crew prepped the girls for facials (as if they have zits at age 11!), loaning them robes and headbands with bling, because you've gotta have bling! Then they giggled happily as each received facial cream treatments, cucumber pads for their eyes, and mini massages. 
Once their skin was beyond soft and supple, they gathered for some sparkling cider and chocolate-dipped strawberries. Each girl even had their own personalized water bottle--such cute luxuries that Mom and Aunt Kerry didn't have to lift a finger to assemble!
Footsoaks and pedicures followed. Diva Girl had brought a special chair for my niece to recline in during this part of the party. Everyone else sat on our couch and soaked their footsies. Then, one-by-one they received foot scrubs and more mini massages. Aaah! They were in heaven, and it was the perfect time for visiting. Even at a young age, we women know how to chat--nonstop. Teen magazines were provided as part of the party experience, but Aunt Kerry soon found that she didn't want to explain some of the articles: "How to kiss?"--a piece outlining the many different ways. No thanks! So magazines aside, we just kind of visited--and took lots of pictures.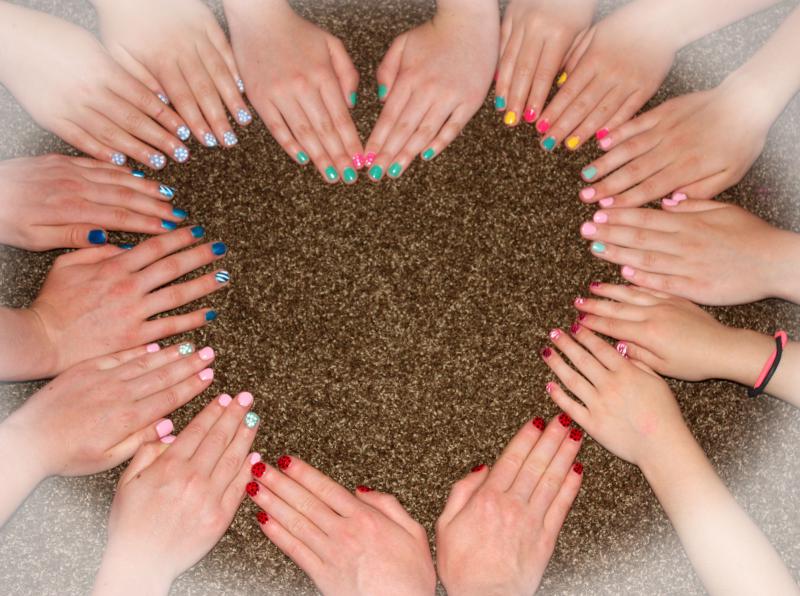 Diva Girl's team scrubbed, buffed, and polished the girls' toenails--and eventually their fingernails--to perfection. In between painting and drying, each girl made flavored lip balm--a very fun, quick activity. Then it was back to painting; the girls wanted different colors on every nail and fancy little designs. I gauged the time and helped them narrow their selections. Otherwise, the spa party would still be going on in my basement to this day.
As the girls were leaving, with fabulous party bags brimming with goodies, my niece said, "Aunt Kerry, make sure you write a really good review. They did a fantastic job!" I completely agree and couldn't have said it better myself.
Kerry Smith is the official favorite aunt of all her nieces. She's married to Cole, and they have two handsome sons. Their family blogs at BeyondAutism.com.
For full details about Diva Girl Spa Parties, visit the link below.
More party highlights: