Affordable Ski/Snowboard Opportunities in and around Salt Lake City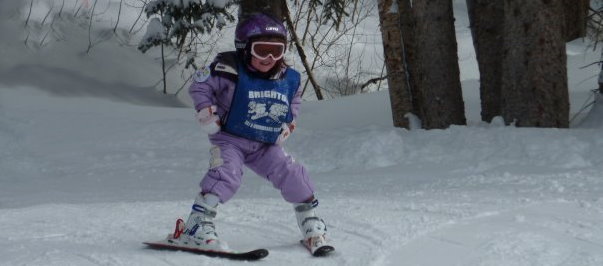 Utah is known for having the Greatest Snow on Earth, but we all know that skiing and snowboarding, while fun, can be quite expensive. People who frequent the slopes cut back on their expenses by purchasing season passes and owning their own equipment. But for those of us who ski only once or twice a season, or for those who are new to the sport and just want to give it a test drive, the cost of hitting the slopes can be prohibitive. Here are some ways you can make a trip up the mountain a little easier on the pocketbook.
Alta's Ski after 3 - This program offers access to the Sunnyside, Albion, and Cecret Lifts for just $10 starting at 3pm daily. Note, the Cecret Lift closes at 3:30pm.
Alta Tow Ropes - the ropes are free all day, every day. 
Alta's Beginner Area Day Pass - this pass allows slightly advanced beginners access to the Albion, Cecret, and Sunnyside Lifts. This pass runs about half the price of a regular Area Day Pass. 
Brighton's Kids Ski Free Program - Kids ages seven and under ski free! Brighton also offers ski and snowboard lessons that are quite inexpensive compared to other resorts. Kids advance quickly in these lessons and are heading to the top of the mountain in no time!
Brighton's Single Ride Tickets - For those of you who only have time to get in one run, this is the ticket for you! Brighton is one of the only resorts to offer this ticket option.
Kids (6 & under) Ski Free - Kids ages six and under can ski free at Snowbird, Solitude, Snowbasin, Park City Mountain Resort, and The Canyons. The free skiing at Snowbird is limited to the areas served by the chair lifts.
Kids (5 & under) Ski Free - Sundance offers its free skiing to children ages five and under.
Salt Lake County Ski Programs for Kids:
Learn-to-Ski/Snowboard Program - Open to elementary school children in third grade and up, this program runs for six weeks and includes lessons and transportation to and from the resort. The buses pick children up at various local schools and recreation centers.
Salt Lake County's Snow Blitz Program - Junior high and high school kids enjoy four nights of ski or snowboard lessons and transportation to and from the resort.
Full details about ski and snowboard programs offered through Salt Lake County can be found
online
.
Ski Utah's Ski Passports:
5th Grade Passport - for a nominal processing fee, fifth graders can ski or ride three times at each of Utah's 14 resorts.
6th Grade Passport - for a nominal processing fee, sixth graders can ski or ride one time at each of Utah's 14 resorts.
Ski Utah Passports also offer participants deals on rentals, lessons, and more. A passport application and program details can be found
online
.
Ski Utah's Yeti Pass
- Parents of kids in the Ski Utah Passport program might want to consider purchasing a
Yeti Pass
, which allows the pass holder to ski once at each of the state's resorts. The price of the Yeti Pass brings the cost of lift tickets down to around $40.
January is Learn to Ski/Snowboard Month. Several local resorts offer amazing deals to first-time and beginner skiers and snowboarders. Check our calendar to be sure to catch these January bargains. This is a nationwide program, so check the website to catch January bargains all over the country.
Liftopia Ski Deals - Liftopia.com lists current deals on lift passes to all area resorts.