Review of Six Flags Great Escape Indoor Lodge & Waterpark: Preschool-Perfect!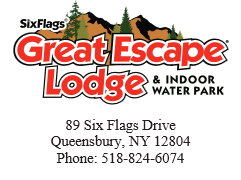 by Anne Siller
It's been a long winter. Okay, let's face it: By the time you hit March, any winter with three kids age 3, 5, and 6 is a long winter.
Between the snow days and sick days, my family and I have had a lot of face time. Sometime around the middle of February, it became apparent to everyone that I was losing my good humor...annd maybe my mind, too. Time for a getaway! We booked ourselves a stay at the Six Flags Great Escape Lodge and Indoor Water Park.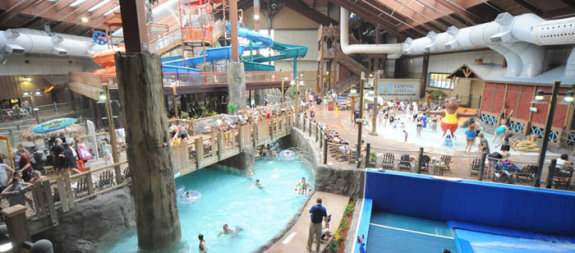 Now, my family must choose very carefully when we book a vacation. My boys are 5 and 6, and their younger sister is 3½. Their personalities are such that we cannot even consider a trip that involves air travel or requires any degree of self control. They are...um... exuberant. Which is why Six Flags Great Escape Lodge and Indoor Water Park was perfectly suited for my rambunctious bunch.
It was a manageable trip, about 2½ hours from our home in the lower Hudson Valley. Packing was easy, too: I just needed their swimsuits, flip-flops and some comfortable clothes.
The Lodge
The Lodge is a welcoming place. There is always a fire going in the fireplace, and lots of couches and chairs around it to create a comfortable atmosphere.  We found the staff not only knowledgeable but also genuinely friendly. Check-in time was at 4pm, but we arrived about 3 hours early. No worries! We checked our bags, grabbed our suits, and hit the park.
The Water Park
Downstairs from the lobby is the entrance to the water park. You pick up your towels on the way in and there are changing rooms and bathrooms as you walk in. There are also lockers available—$16 for a small and $18 for a large—activated by credit card, so you can bring all your loot with you if you like. You cannot bring food into the park, but concession stands offer standard amusement park fare.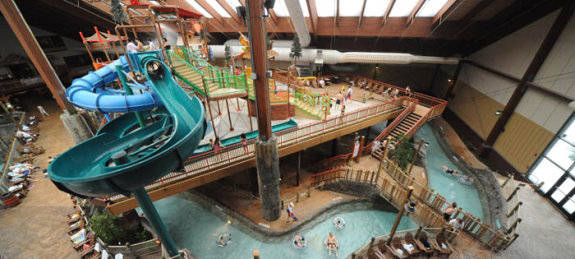 When we walked into the water park, my kids were jumping up and down with excitement. As a bonus, it was a balmy 80 degrees inside, with sun streaming through the windows.. We took stock for a minute. My 6-year-old can swim well, the 5-year-dld not so much...and the baby? a guppy. We found a hut as we walked in that contained life jackets and we suited up.
I also did a quick scan for lifeguards and was happy to see them in abundance. They were all friendly and engaged. They carried measuring sticks for a quick check of eligibility (height) for the slides and these were not just for show. We were stopped and checked more than once. The lifeguards rotate around the park every 45 min.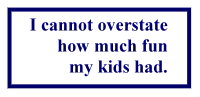 I cannot overstate how much fun my kids had. We spend a lot of time in Take-it-Eesi Creek, a lazy river type ride that runs a loop through the park. They also loved the slides, and though the baby didn't measure up for most, she was able to make the cutoff for the family raft down The Avalanche one of the biggest slides. She flopped around the Tip-a-Kanu playground, which is designed just for toddlers, while the boys and my husband ran themselves ragged going up and down the slides.
We also spent a lot of time in the Tall Timbers Treehouse. My boys could play fairly independently on the two slides, and our girl played in the splash playground.  A few hours passed in no time, and just we started to run out of steam, we got a call that our room was ready.
We stayed in a suite, which was a generous size and quite comfortable. There is a fridge and a microwave, so you can bring your own snacks. The seating and sleeping area are separated by a wall, so my husband and I could sit up and read after the kids corked off. There is also a "quiet please" policy from 11pm-7:30am, so it was easy to sleep.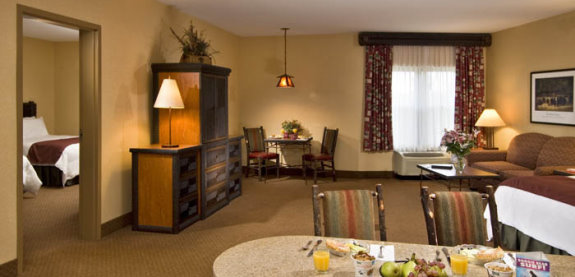 Beyond the waterpark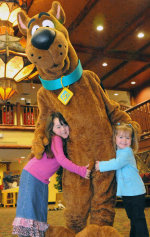 One of the amenities offered for kids was the Kids Klub, a place for drop-in activities and interactions with some of the resort's characters. And when we checked in, we signed up for a "Tuck in": a visit from one of the club's characters at bedtime.
Shortly before 9pm, Scooby Doo and his assistant knocked on our door, and in they came with cookies and milk. My boys loved it, but when it became clear that my youngest was about to freak out, Scooby gracefully backed out of the room and peace was restored.
Tranquility Spa
The next day, while my husband got the kids up and fed, I headed for the spa.I don't usually do that kind of thing but perhaps because I had lost my mind back in February he thought it was a good idea. And it was.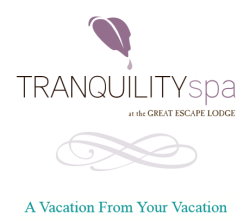 The Tranquility Spa offers full spa services in a relaxing setting and the staff members were both lovely and low key. I booked a half hour facial. When I arrived, my spa attendant introduced herself and inquired if I would like my facial in quiet or have the process explained as it unfolded. Because this was something of a novelty for me and I am completely unaccustomed to quiet, I asked for and received the full explanation. She was knowledgeable about all of the products, including their origins and their uses. The facial took place in a serene and peaceful setting. And when I emerged, I felt relaxed and refreshed and younger…most definitely younger.
The spa is a popular place, and the staff recommends that you book your spa services when you reserve your accommodations. They offer a variety of massage packages—the service most in demand—but there is great deal more on the menu. Consider a sea salt scrub or a restorative mud wrap.
Mommy and Me Spa Packages at the Lodge
There is also the mommy and me option: The Spa offers mani/pedi's for kids, so if you have a little glamour-puss, you can both get your nails done. There are plenty of options for teens as well, so when your adolescent starts giving you the stink eye, think aromatherapy massage; you might get some mileage out of that. And lest we leave the big lugs out, there are spa offerings for men too! Imagine if we decided to pamper our husbands now and then?! Sure, they don't know the pain of childbirth, but they work hard, don't they?
I thought as I left that I should have booked a massage as well, but when I got back to the room, my kids were raring to go. So back we went to the park again for several hours sliding and splashing.
Helpful Hints: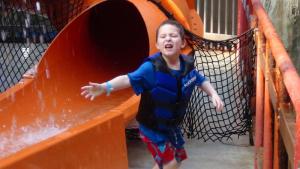 Bring a separate pool bag, so you can play in the park before check-in and after check-out without having to rummage through your stuff.
Maybe we are just big people? But those towels seemed small. Consider bringing a few beach towels of your own. Flip flops too.
Beware! You fly out of those tunnels with some force, so a one-piece bathing suit rather than a bikini is a must.
Spa packages book early and quickly. Consider booking the spa when you book the trip; don't wait until you arrive.
We had a great meal at Johnny Rockets, but it gets crowded around 6pm. Plan accordingly if you have little ones (or husbands) who cannot wait.
This was a fun vacation, but not a restful one! The Lodge does not offer babysitting services; it's all about you and your kids. The safety signs in the park encourage keeping your kids no farther than arm's length, and it is good advice.
When we finally all piled in the car, tired and definitely a little damp, we all had that look: that worn-out-but-in-a-good-way look. It was a good mini-vacation….a great escape.
---
© 2013, KidsOutAndAbout.com
Anne Siller is editor of KidsOutAndAbout.com-Hudson Valley. She found her mind again somewhere in the middle of her stay at Great Escape.