Incredible City Views From SkyDeck Chicago at the Willis Tower

By Meg Brunson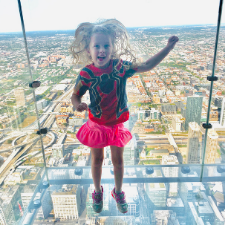 I love visiting big cities, there is something so beautiful about the city skyline – and when I learned that we could view the city of Chicago from 1,353 feet in the air – the highest observation deck in the US – and saw The Ledge, where we could step out onto a see-through box and see not only a 360-degree view around the building, but also straight down – we HAD to do it (despite dad's phobia of heights).
The journey up to the 103rd floor SkyDeck included three separate elevator rides. When we reached the top we immediately got amazing vantage points of the city through the large windows overlooking the city. Signs near the windows identified the various buildings we were able to see, giving us some perspective on what we were looking at.
Displays throughout the floor share fun facts about Willis Tower, the SkyDeck, and Chicago in general. There are a couple good photo op spots, thought the views are really why we came!
When we finally got to the Ledge (the part I was most excited about!) we had no line in front of us so we were directed to an open window and the very first thing they did was arranged us for a professional photo which we had the opportunity to purchase after our visit. Then, we were free to take photos and look around the unique perspective of the city.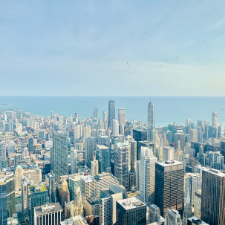 How did everyone react? My husband is terrified of heights – he knew better than to push himself, so he hung back while the kids and I experienced the Ledge. Everyone else was okay. Some took a little more time to warm up to the idea and feel safe than others did.
I loved seeing the city from above and think that this is one of those things that everyone absolutely must do at least once!
We visited in September 2020 during the coronavirus pandemic: Timed tickets are limited and should be bought in advance. Masks are required inside of the building. There are stickers on the floor to help with social distancing in line, and parties are brought up to the 103rd floor in limited numbers. As a family of 6 we rode the elevator alone/together but noticed the stickers on the floor ranging from 4-6 people allowed in an elevator at a time. The SkyDeck is observing a one-way pattern around the observation deck to help maintain social distancing, and guests have limited time on The Ledge to keep people moving through the area. We were allowed to take masks off for photos on The Ledge.
Tips for a Terrific Trip
Plan for parking. There is a parking garage right across from the Willis Tower, however the clearance was not high enough for our SUV. Using the same website, we were able to find an alternate garage, but it was a few blocks away. There was also on-street metered parking (and we visited on a holiday and had no problem finding metered parking right out front). Since the tickets are timed, you'll want a plan for parking before driving into the city for the first time. The parking garage does allow you to pre-purchase your parking pass, which we probably would have done if we were visiting on a non-holiday.
The Willis Tower is huge – and not just tall – but it takes up the whole block! To visit the Skydeck you'll want to enter through the doors on Franklin Street.
The expedited passes were REALLY nice because we got to hop to the front ahead of other timed ticket holders who did not have the expedited passes – less wait is ALWAYS nice with kids!
We booked the earliest ticket time (9am on the day we were visiting) and with the expedited passes, we were the 2nd family brought up and we had a very leisurely visit without a lot of other people around – including time on the ledge.
Have photo poses and ideas in mind. I browsed Instagram for some ideas before visiting since I knew that our time on the ledge would be limited.
Find coloring and activity pages for kids on the SkyDeck Website HERE, print them out and bring them with you, or complete before your visit to get the kids excited about what they're going to see!
If you like unique photo ops, the thrill of walking on a glass floor 1,353 feet in the air, and/or incredible city views spanning 4 states and one great lake – you must include the Willis Tower and it's SkyDeck in your Chicago plans! Start planning your trip today at https://theskydeck.com/.
Read about some of the other adventures we're having on our Indefinite Road Trip!

---
© 2020 Meg Brunson
Thanks to SkyDeck Chicago for sponsoring this review! All opinions expressed are my own. See more on Instagram!
Meg is a mommy blogger, Facebook marketer, and much more. She is a mom to four kids who live full-time in an RV exploring the US! As a former Facebook employee, Meg remains a Facebook addict and handles KidsOutAndAbout.com's Social Media Marketing in addition to providing freelance services for other small businesses on how to best leverage Facebook as a part of their marketing strategy. Meg also hosts the FamilyPreneur Podcast, a podcast for parent entrepreneurs raising entrepreneurial children. Learn more about Meg at MegBrunson.com!