Family Sledding at White Sands National Park in New Mexico

By Meg Brunson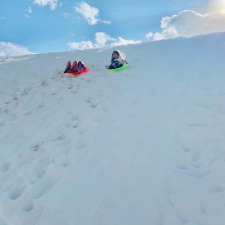 I first heard of White Sands National Monument when a friend posted a picture of their visit. As I researched it, I got super excited about bringing my kids and experiencing the white sands myself. Having lived in Phoenix for 3+ years, sledding is not something any of my kids really remember and the idea of sledding down white sand (as opposed to cold and wet snow) really excited me!
We visited White Sands National Monument in February so it was cool and not very crowded. Before driving deep into the rolling hills of sand, we stopped at the visitor center where we were able to buy a couple sleds. The sleds available were pretty expensive. They have pre-used sleds for sale sometimes, but they tend to sell out early in the day, and we arrived too late to benefit from that. We were towing the RV, and there was plenty of room to park at the visitor center and maneuver through the park.
We drove for a while, deep into the park. At one point the paved road turns to sand. We stopped shortly after that point out of concern for pulling the 35' travel trailer through sand. We didn't have any issues, but we also did not push it.
After parking at one of the areas off the side of the road we took the sleds and climbed and explored the area a bit – finding what looked like a good hill to test the sleds on.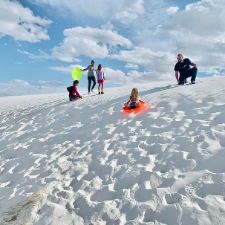 Before sledding, we waxed the bottom of the sleds and then the kids took turns flying down the hills and climbing back up. It was a ton of fun and as I mentioned before, I personally loved that it was not wet or cold.
After having our fun and grabbing some stunning photos to remember the experience, we returned to the visitor center to sell back our sleds. It was a small amount we received back, but we knew we would not need or use the sleds again, so it was better than nothing!
Helpful Hints for Planning your visit
Bring Sleds and be ready to wax - The kids loved sledding down the dunes and while there are sleds available in the visitor center they are pricey! You will need to wax the bottom of the sleds for best sledding over the sand… but you can grab some wax from the visitor center inexpensively, and they may even buy it back from you when you're done with it!
Hydrate & Protect from the sun – ensure you have plenty of water for everyone and that you have sunscreen to protect from the sun. Depending on when you visit, it can get hot and there is no shade to hide from the sun.
Car entertainment – You'll want to drive deep into the park for the best sledding dunes, so make sure the kids are prepared for the drive.
Whether you're interested in sledding with the kids, or just taking in the breathtaking beauty of white sand hills as far as the eyes can see, White Sands National Monument is one national park that simply can not be missed. If you're traveling through southern New Mexico it's worth it to stop for a few hours, or detour for an overnight. We loved this stop!  Start planning your trip at: https://www.nps.gov/whsa/index.htm
Read about some of the other adventures we're having on our Indefinite Road Trip!

---
© 2020 Meg Brunson
All opinions expressed are my own. See more on Instagram!
Meg is a mommy blogger, Facebook marketer, and much more. She is a mom to four kids who live full-time in an RV exploring the US! As a former Facebook employee, Meg remains a Facebook addict and handles KidsOutAndAbout.com's Social Media Marketing in addition to providing freelance services for other small businesses on how to best leverage Facebook as a part of their marketing strategy. Meg also hosts the FamilyPreneur Podcast, a podcast for parent entrepreneurs raising entrepreneurial children. Learn more about Meg at MegBrunson.com!