Experience Luminaria at Thanksgiving Point

'Tis the season for festive lights! They're tradition; they invite the young and the old. The holiday experience wouldn't be complete without them. Now, Utah families have another holiday tradition to look forward to: Lumanaria, the new light extravaganza at Thanksgiving Point's Ashton Gardens in Lehi.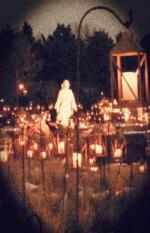 We had the good fortune to visit Luminaria on Saturday, December 3. Not sure what to expect, but knowing that Thanksgiving Point activities are always first class, we excitedly looked forward to our visit. We were not disappointed!
Stroll first through Candy Cane Lane, a festive introduction that immediately catches kids' attention--at least it did for my boys. Wind through garden pathways with lights galore, some forming an eye-catching light flower garden. Around the corner is a teepee of lights; of course we have to go in. Keep going to wooded paths where willow deer "graze" on the landscape, the scent of fresh cedar accenting the experience with each footstep crunch.
Round the bend to a streambed full of flowing, blue lights. Stopping to admire the scene, I am quickly summoned by my boys who have discovered that two of Santa's reindeer are visiting. Sure enough, live as can be, there they are. A cute Reindeer Shack nearby offers treats, hot chocolate, and a chance to prolong one's stay with the reindeer. Pat a reindeer. Sip some cocoa. Pat another reindeer. You get the idea.
Eventually, we mosey along to see more of the sites, coming to the new Light of the World Garden, a two-acre haven featuring 14 scenes from the New Testament. Nestled among the statues and landscaping are hundreds of lights on shepherd hooks, a fitting scene that immediately produces a feeling of reverence and respect for those who enter.
After visiting this garden, we return to the Christmas fun we've come to expect for this time of year. Next stop is the Smores area. Here you can take a slight break from the lights, play corn toss with the little ones, race Santa sleds on a track (think Pine Car Derby style), warm your hands by any one of the fire pits and outdoor heaters, and buy concessions if you'd like. Corn dogs, hot dogs, a bowl of chili--you have a few options. Purchase fixin's to roast smores if you like, and if you plan ahead you can reserve a private fire pit just for your group to enjoy. 
Continue on to the main light show, if you haven't seen it by now. We started at 5:00 when the night sky was just darkening. So we doubled back to see the main event: 8000 luminarias pattern to form a variety of images, syncopated to classic holiday tunes. It really is an awe-inspiring site to look from the top of the gardens by the clubhouse down a long stretch at all these lights forming to make a picture-perfect light show. A 120-foot, lit tree is the apex of the show, a grand ta-dah!
Last (or first, depending on how you do it), stop by the Poinsettia Greenhouse, right by the clubhouse. You can't miss it. We actually stopped there first, saw how gorgeous it was, but decided to use up our body heat outside and return when we needed to warm up. The room is really lovely with many varieties of Poinsettias adorning every space. Some are stacked as Christmas trees, others are mixed in with amaryllis blooms. The scent is heavenly, and it's the perfect spot for indoor family photos. You can also treat yourself to more hot chocolate and other snacks here if you didn't get your fill at the other stations.
Directions: Exit 284 on I-15. Ashton Gardens is located at 3900 North Garden Drive.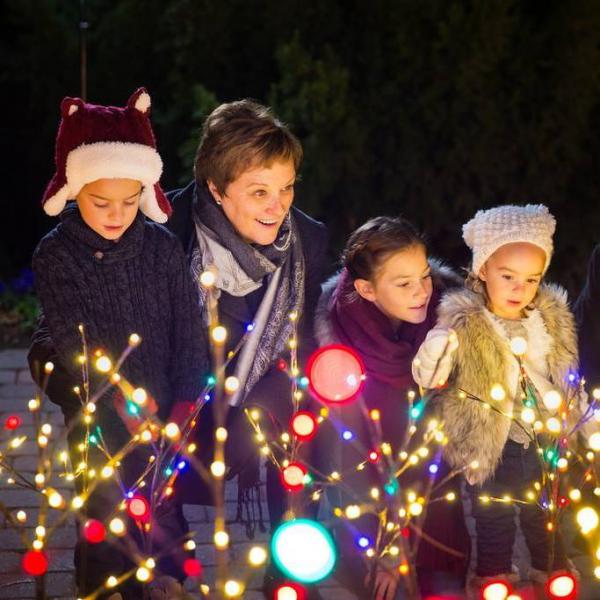 Cost for the event General admission tickets for adults are $20. Children ages 3 to 12 and seniors are $17. A 10% discount is offered to Thanksgiving Point members. Group pricing is also available. Free parking, with a free shuttle trolley is available.
Hours of operation: Monday to Saturday, thru December 31st (closed Christmas Eve): timed entrance admissions begin at 5:00 and go to 8:30 pm. Last admission is 9:00 pm. Stay as long as you'd like in the Gardens; entrance times are staggered to ensure an uncrowded experience. Plan to spend at least 1 1/2 to 2 hours enjoying all there is to see. Questions? Call 801-768-2300.
Special needs considerations: All walkways are level and wheelchair accessible. It's possible some children with sensory issues might be intimidated by all the lights, but they aren't overly flashy, and there is no loud music. It's played softly in the background.
Bathrooms: Available at the main entrance clubhouse.
Tips to Know before You Go: Dress warmly; you'll need it. We wore coats, snow pants, hats, warm boots, mittens--the full deal--and we were glad we did. Don't skimp on this, especially if your teenager thinks they don't need to! If you have little ones, bring a stroller, even if your kid thinks they're too big to ride in it. My four-year-old ended up riding almost the whole way. We would have been miserable without it. Bring tissue; cold noses drip. Tuck a water bottle in the stroller. You can buy water there, but we liked having it handy. Charge your phone battery beforehand; there are lots of opportunities for pictures that you won't want to miss.
Would I bring little littles? Not really, but people did. Ages three and under are free. You know your kids best. But if they tend to be miserable in the cold, see if you can leave them with a sitter so you and the rest of the family can really enjoy the experience.
---
Kerry Smith, Salt Lake City editor for KidsOutAndAbout.com, and her husband, Cole, have two sons. When they're not battling the flu this holiday season, they enjoy getting out and about to experience all the wonderful sights and sounds of Christmas.