Fourth of July Parades, Celebrations, Fireworks in the Salt Lake City, Utah Area
Check out our big list of things to do in Salt Lake for the 4th of July! There are a variety of family-friendly events to choose from, so you can find something everyone will enjoy. Click here to see our online calendar, which lists LOTS of additional events, so be sure to check it also. To subscribe to our free weekly e-newsletter that tells you everything happening in the Salt Lake City area for kids and families, CLICK HERE.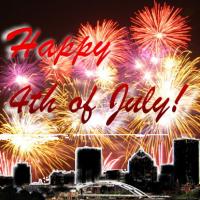 2017 List of Independence Day Festivities in the Salt Lake City Area
Centerville
Celebrations begin on July 3. The morning of July 4, there's a breakfast in the park, a Fun Run, and the parade, which starts at 9 am. Please note that the parade route is different this year: The parade will begin at Pages Lane, continue along Main Street, and finish at 1400 North and Main. Click here for more information about all events.
East Mill Creek
East Mill Creek Lions July 4th Community Celebration. Tuesday, July 4, 7 am to 11 am - Traditional Chuckwagon Breakfast. 9 am - Parade starts at 2700 East Evergreen Avenue and finishes at Evergreen Park.
Lehi
Lehi City and Thanksgiving Point invite you to celebrate American independence (Tuesday, July 4) with us at Electric Park. Gates, concessions, and vendors at Electric Park will open by 4 pm.  Fireworks begin at approximately 10 pm and will be set off from the North side of the property.  Bring a blanket and enjoy an evening outdoors with food and fun.
Magna
Fourth of July – Small Town Big 4th. Please join us for a variety of events at Magna Copper Park, including a Cannonade, 5K Fun Run, Lions Club breakfast and ceremony, and a parade at 12 noon on Main Street. More games, music in the park, and fireworks at 10 pm.
Murray
Fun Days 4th of July Activities include a community breakfast, a kids' race, and various activities all day. The parade begins at 8:30 am at the Fashion Place Mall and ends at Murray Park.
North Salt Lake
North Salt Lake's spectacular fireworks show at Eaglewood Golf Course can be seen for miles. Live music, games and entertainment before. Fireworks begin at 10 pm. Bring a blanket and enjoy the show.
Oakley
The festivities at Oakley Rodeo Grounds on July 4 include a 5K race, parade, barbeque, and PRCA Rodeo, with fireworks after the rodeo. Parade starts at 10 am from Center Street and State Road 32. Click here for a complete list of events. 
Ogden
Beginning with a sunrise ceremony at 6:30 am on July 4, Ogden festivities include a Kiwanis breakfast, a Fun Run, children's parade, Cherry Day's Parade, car show, festival in the park, and much more. Click here for more information.
Provo
Freedom Days is a four-day event in downtown Provo, celebrating America's Freedom. Come to experience great entertainment, unique food, handcrafted jewelry, quilts, a carnival, and art exhibits. The live entertainment is a highlight at Freedom Days and touches everyone's taste in music! Come on over to the excitement and grab a Snow Cone, Texas Twister, Corn on the Cob and Turkey Leg!
Join us on Tuesday, July 4, at 9am for the Grand Parade – the largest of its kind in the state of Utah – highlighting freedom through bands, professionally crafted floats, giant helium balloons and local and national performers. The parade will follow the same route that it has in previous years. It begins at 960 N. University Ave. and proceeds south to 100 S. and then turns east to 200 E. From there it turns north to Center St. and then turns east and ends at 900 E.
We are so pleased to welcome Grammy Award-winning luminaries Little Big Town to the 37th annual Stadium of Fire, at LaVell Edwards Stadium in Provo on July 1. The country music superstars aren't slowing down after their widely-praised performance at the 2017 Grammy Awards and the release of their newest album, The Breaker, in February. Five-time Grammy nominee Hunter Hayes has also been announced adding to what is already a night of music and celebration. CMA Award-winning singer/songwriter and multi-instrumentalist Hunter Hayes will also perform at the 2017 Stadium of Fire. We are also excited to announce the addition of Brian Regan, one of America's most popular and critically acclaimed comedians, to this year's Stadium of Fire lineup! Attendees will love the patriotic festivities, from flag-waving skydivers to the rousing beats of our community youth dancers to the largest, loudest stadium fireworks show in the U.S.A.
Riverton
Riverton Parade: July 3: Parade starting at 6:30 pm, and after the parade there will be a party in the park.
Town Days at the Riverton City Park. The morning of July 4 will start with a flag ceremony at 6:30 am in the northern part of the park followed by breakfast starting at 7:00 am. Then activities and events will take place throughout the entire day, finishing with fireworks at 10 pm. 
Riverton Country Mile 10k, 5k and 1 mile: In conjunction with Riverton Town Days, this race is a popular family tradition. Come out this 4th of July to continue the tradition, or even to start a new one. Come to the race, then stay for all the 4th of July festivities, going on all day.
Salt Lake City
Independence Day BBQ, Fireworks and Concert: Celebrate Independence Day with the band America this July 4 at Smith's Ballpark. Patriotic festivities kick off at 7 pm and will include music, fireworks, BBQ & beer. 
Liberty Days at This Is The Place: Enjoy a day of good old-fashioned FUN while you celebrate the birth of our great Nation! Join us as we raise the red, white and blue, have a watermelon eating contest, play games and fire off the Candy Cannon!
Sandy
Sandy's 4th celebration takes place at the South Towne Promenade 10000 South 172 West, between South Towne Center and Sandy City Hall.
Snowbird
Celebrate Independence Day at Snowbird with family-friendly rides and activities, live music and a pancake buffet on The Plaza Deck.  All-You-Can-Eat Pancake Buffet: pancakes, potatoes, eggs, bacon, OJ, coffee and more! 
Sugar House
Sugarhouse 4th of July Arts Festival and Pet Parade: The Sugar House 4th of July Arts Festival has become a key event in the Sugar House community. The event will feature 100+ artists, the Annual Pet Parade, and live music and performances all day. 
West Bountiful
Fireworks on July 3. Parade the next morning at 10:30 am, regular parade route, beginning at 400 N and 800 W, north to Pages Lane, east to 600 W, north to north end of the park. Click here for details.
West Jordan
West Jordan Independence Day Parade, 10:30 a.m. Parade runs north up Redwood Road from City Hall (8000 South) to 7000 South. UTAH'S PRCA RODEO RIDES INTO TOWN EVERY INDEPENDENCE DAY FOR SOME OF THE BEST ACTION AROUND! The West Jordan Western Stampede runs July 1, 3 & 4.
---
If you know of other Fourth of July Celebrations in the Salt Lake City area, please email us and we will add them to this list.