Farmers Markets in the Salt Lake City, UT Area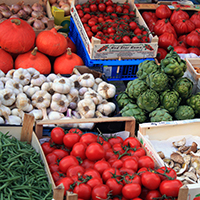 Farmers Markets, Roadside Stands, and Fresh Produce
BENSON GRIST MILL HARVEST DAYS
325 SR 138, Stansbury Park, Tooele
Saturdays, August–October, 9am–1pm
BOUNTIFUL FARMERS MARKET
100 E & 100 S
Above Main St, Bountiful
Thursdays, June 16-mid October, 3pm–dusk or 8p.m.
DOWNTOWN SALT LAKE CITY FARMERS MARKET-
Saturday Farmers Market
Every Saturday Morning is Market Day, June - October
From its inception in 1992, the Downtown Farmers Market has become a summer tradition for Salt Lake City residents and visitors. Located in historic Pioneer Park, the Saturday Farmers Market has infused vitality into the middle ground between East Bench and West Side neighborhoods.
June 11th through October
Saturday Morning
8am - 2pm
Pioneer Park
HAPPY VALLEY FARMERS MARKET
The Happy Valley Farmers Market takes place every Wednesday evening from June 15th through October 28th, 2016 at Robinson Park, and June 3rd through October 26th at Walden School in Provo
150 S. 2000 W., Pleasant Grove
Rooster wandering, cows chewing and Farmer's selling! Find fresh produce at the farm! Enjoy great products and food from vendors during the market which runs Friday's only from 5-8 p.m.
LEHI FARMERS MARKET & BOUTIQUE
Joseph D. Adams Memorial Park
1870 N. State St., Lehi
Saturdays, August–October, 10am–1pm
Mapleton City Center
125 W 400 N
Late July – late September, Saturdays, 8am–11am
MILLCREEK COMMUNITY MARKET- unverified 2016
Fridays evenings June-August. Local produce, entertainment, fun!
3474 South 2300 E
East Millcreek
UT 84109
(801)842-9167
MURRAY PARK FARMERS MARKET
Murray City Park
200 E. 5200 S., Murray
Fridays & Saturdays, July – October, 9am–2pm
OGDEN-HISTORIC 25TH STREET FARMERS & ART MARKET
Downtown Ogden Municipal Gardens
25th Street & Grant Ave, Ogden
Saturdays, June–September, 8am–1pm
Next to the Century 21 parking lot
2628 N Hwy 162, Eden
Thursdays, July-September, 5:30pm–dusk
PLEASANT GROVE PROMENADE-unverified 2016
Historic Downtown Park
100 S. Main St.
Thursdays, June–September, 5pm–9pm
Locally grown vegetables, fruits, flowers, and plants — sold by the farmers that produce them. While you're purchasing your fresh vegetables and fruits enjoy a tasty pastry from local bakeries or enjoy a meal created by local chefs.
Pioneer Park
500 W. Center Street, Provo
Saturdays, June–October, 9am–2pm, from Sept–Oct 10am–2pm
1600 West Towne Center Drive (10600 South)
Saturdays, August–October, 8am–2pm
40 S Main St Spanish Fork, UT
Saturdays, July 30th-November 5th, 8am–1pm
Phone: 801-798-8352
SUGAR HOUSE FARMERS MARKET
Fairmont Park
1040 E Sugarmont
Salt Lake City
Wednseday, June 8th-October 26th 5pm–8pm
9th West Farmers Market
Sunday June - October | 10AM - 2PM
1000 S 900 W | SALT LAKE CITY
Visit with our local artisans, enjoy fresh prepared food, purchase some of the best produce to be found locally, and enjoy the live performances by local musicians.
There will be different Special Events through out the Season, including Book Day where you can swap books with others at the Market, and Pet Day when we promote the many rescue organizations who bring out wonderful animals who are in need of good homes. We also promote the talented youth of the community to come: to learn arts and crafts, sell items that they have made themselves, or even perform musically during open mic sessions at the Market.
UNIVERSITY OF UTAH FARMERS MARKET
University of Utah Tanner Plaza
201 S. 1460 E., Salt Lake City
Thursdays, Aug. 25 - Oct. 6, 2016, 10 a.m.-2 p.m.
UTAH BOTANICAL CENTER FARMERS MARKET
875 S. 50 W., Kaysville
July 7 - September 22th
Thursdays 5 p.m. - 8 p.m.
VA FARMERS MARKET-unverified 2016
VA Medical Center
500 Foothill Dr,
Wednesdays, July-September, 11am–2pm
-Wheeler Farm
6351 S. 900 E., Salt Lake City
Sundays, June 5–October 30, 9am–2pm
The Wasatch Front Farmers Market is excited to celebrate its 6th Market Season at Wheeler Farm. 
This fun-filled market is set on the grass of Wheeler Historic Farm. From wandering through the farm to enjoying our traditional farm-fresh pancake breakfast,
this market has it all.
-Holladay Farmers' Market
Saturdays, June 4th-October 29th
Hours: 9am-1pm
2300 East & Murray Holladay Blvd. 
From 9am-1pm, each Saturday, June through October, you will be able to enjoy an ample selection of locally grown fruits & vegetables, delicious artisan foods, a few select craft vendors, and live music! 
Fruit and Veggie Market at Gardner Village
Saturdays, 9am-1pm, June 4 - October 29. *There will not be a market on Saturday, July 2, 2016.
1100 West 7800 South West Jordan, Utah
Please note, the Fruit & Veggie Market is different than the Farmers Market experience we've provided in past years. This year's market is being coordinated by Francis Family Farms and focuses only on seasonal fruits and vegetables.
W. JORDAN FARMERS MARKET
Jordan School District Parking Lot
7975 S. Redwood Road, W. Jordan
Tuesdays, August–October, 3pm–7pm
If you have a favorite market that is not listed, please click here to email me the information.